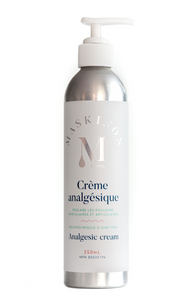 Professional Format (250ml)
The pump format is used in the clinic during treatments by several health professionals (Physiotherapists, Osteopaths, Physiotherapists and Massage Therapists). Between follow-ups, they recommend daily application of Maskinon Pain Relief Cream to speed up the healing process.
Popular in training rooms, specialist trainers and kinesiologists suggest the use of Maskinon to their clients and athletes during and after physical exertion to relieve muscle stiffness and improve recovery.
Medicinal ingredients - Concentration in%
Arnica (Arnica montana) E.L. 1:10. ……. …… .5%
Clove essential oil …….… .0.2%
Eucalyptus essential oil …………… ..0.75%
Menthol …………. ……………. ……………… .. ……… ..2%
Menthyl salicylate …….….…. ……………… 20%

Caution

For external use only. Do not apply to broken skin or an open wound. Stop use if rash or skin irritation occurs. Avoid contact with eyes or mucous membranes. The application of external heat, such as an electric heating pad, can cause excessive irritation or burns to the skin. Keep out of the reach of children. Do not use if you are taking anticoagulants, are pregnant, breastfeeding or have an allergy to the Asteraceae family and its compounds. If the condition worsens, symptoms persist for more than 7 days or disappear and return after a few days, discontinue use of this product and consult a doctor.